District News
<< Previous Viewing 21 - 27 of 27 stories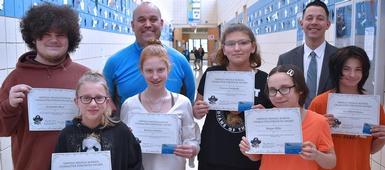 OMS Honors February Character All-Stars:

Oswego Middle School students were recently honored for showing love to their peers throughout the month of February. One student from each of the six OMS teams were recognized by their classroom teachers because they exhibited the character trait of love in school and beyond. The students were identified as role models for their continued display of interest and compassion for others. For their efforts, each awardee received a certificate of recognition and a gift card. OMS February love character all-stars include Leah Murphy from the 7 East team. Murphy was identified by her teachers as an asset to her classrooms and as a compassionate, kind and respectful to her classmates daily. AJ Burns is the 7 West honoree, after his teachers noted his general love of learning, ...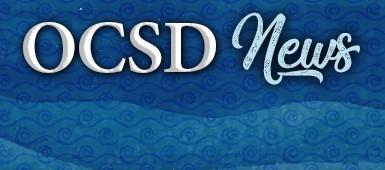 Health Information:

Dear Parents & Guardians, The District has been carefully watching and listening to multiple sources (Centers for Disease Control and Prevention, New York State Department of Health (NYSDOH), Oswego County Health Department, New York State Education Department, etc.) regarding the new 2019 Novel Coronavirus (2019-nCoV). The situation is rapidly evolving. Please continue to monitor district communications sent home and this page for additional updates as they become available. March 10, 2020 Based on current information from the Centers for Disease Control and Prevention, New York State Department of Health (NYSDOH), Oswego County Health Department, New York State Education Department, Oswego City School District does ...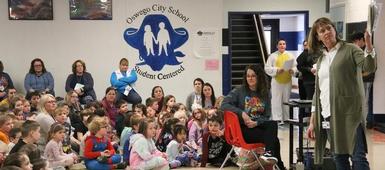 Minetto 6th Graders Host Kindness Assembly:

To help promote character education throughout the entire building at Minetto Elementary, the school recently began hosting monthly assemblies to increase efforts in unifying the school community and promoting positive culture. Throughout the month of February, students familiarized themselves more with the trait of kindness. Kindness pledges were read, students and staff members completed random acts of kindness and utilization of The Minetto Way helped propel students into being more kind to others. To summarize all those efforts, sixth-graders Joseph Smith, Billy Laird, Johnathan Budd, Jr., Lucas Wallace, Noah Ireland and Elvis Henderson felt empowered to lead the school-wide assembly. Each student took turns sharing their thoughts on kindness, including Budd who said kindness ...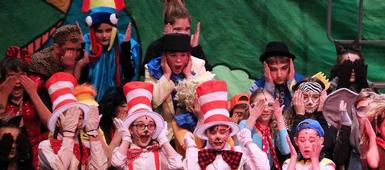 Minetto Students Perform Seussical JR:

Snippets of the stories by renowned author Dr. Seuss came to life during Minetto Elementary's spring musical, "Seussical JR." Fifth- and sixth-grade cast members delighted an audience full of their peers as a dress rehearsal performance prior to a recent night show, open to the greater Oswego community. The students worked hard to study their spoken and sung lines, as well as choreography as they brought the audience on a journey with Dr. Seuss characters Horton the elephant, the Cat in the Hat and Gertrude McFuzz among several others. The whimsical and colorful performance was directed by Minetto music teacher Susan Olinsky. "Seussical JR." cast members included: Grace Dawson (child/JoJo), Lana Hsu, Lucas Wallace and Emily Hooper (cats 1,2, ...
OCSD Collab. Project is Music to Students' Ears:

The Oswego City School District has prided itself on being a collaborative community to help complete its district-wide mission of being student-centered and its vision of having students be fully prepared and life ready when they graduate from Oswego High School. One way this has been achieved is through a mutual love of music and collaborative approach to learning songs and larger ensemble performance. That was proven during the first-ever combined pep band performance of the traditional OHS band students, who effortlessly worked alongside sixth-grade band students from Charles E. Riley, Fitzhugh Park and Minetto elementary schools. The brainchild of OHS band teacher Steve Defren, the collaborative effort during a recent OHS girls' varsity basketball game was a way for the ...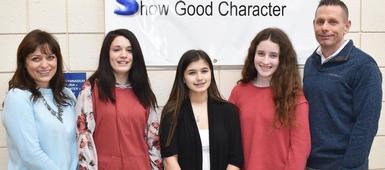 OMS Students Excel in School Spelling Bee:

Three Oswego Middle School students have advanced to a regional spelling bee after having successfully earned the top three spots in their school-wide spelling bee. After hundreds of OMS students took a written test, seventh-grader Maggie Jerred earned the top speller honors, while fellow seventh-grader Mackenzie Bennett achieved second-place in the contest and eighth-grader Alyssa Larrabee earned third-place. Pictured, from left to right, are: eighth-grade English teacher Sandee Brown, Bennett, Larrabee, Jerred and seventh-grade English teacher Jim Livingston. The regional bee will take place at 10 a.m. March 7 in Oswego High School's auditorium.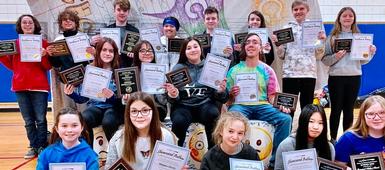 OMS Students Excel in Echoes Writing Contest:

Several Oswego Middle School students were recently recognized because they exceled in a nationwide writing competition. The Echoes program enabled OMS students in grades seven and eight to utilize their creativity and passion to write a variety of poems, songs, stories and skits, which were then selected to be performed by Merry-Go-Round Playhouse actors in front of their peers. Showcased Author awards were presented to eight-grader Cheyenne Galt for her piece, "I Fell," and then eighth-graders: Arianna Lopez, Kiana Brownell and Vanessa Cornelius for their work, "Untitled." Excellence in Writing certificates were presented to the following seventh-graders for their stellar work: Luis Colon- "The Kid of the Street," Roman Pierce- "The ...
<< Previous Viewing 21 - 27 of 27 stories