OCSD Announces Reopening Plan at BOE Meeting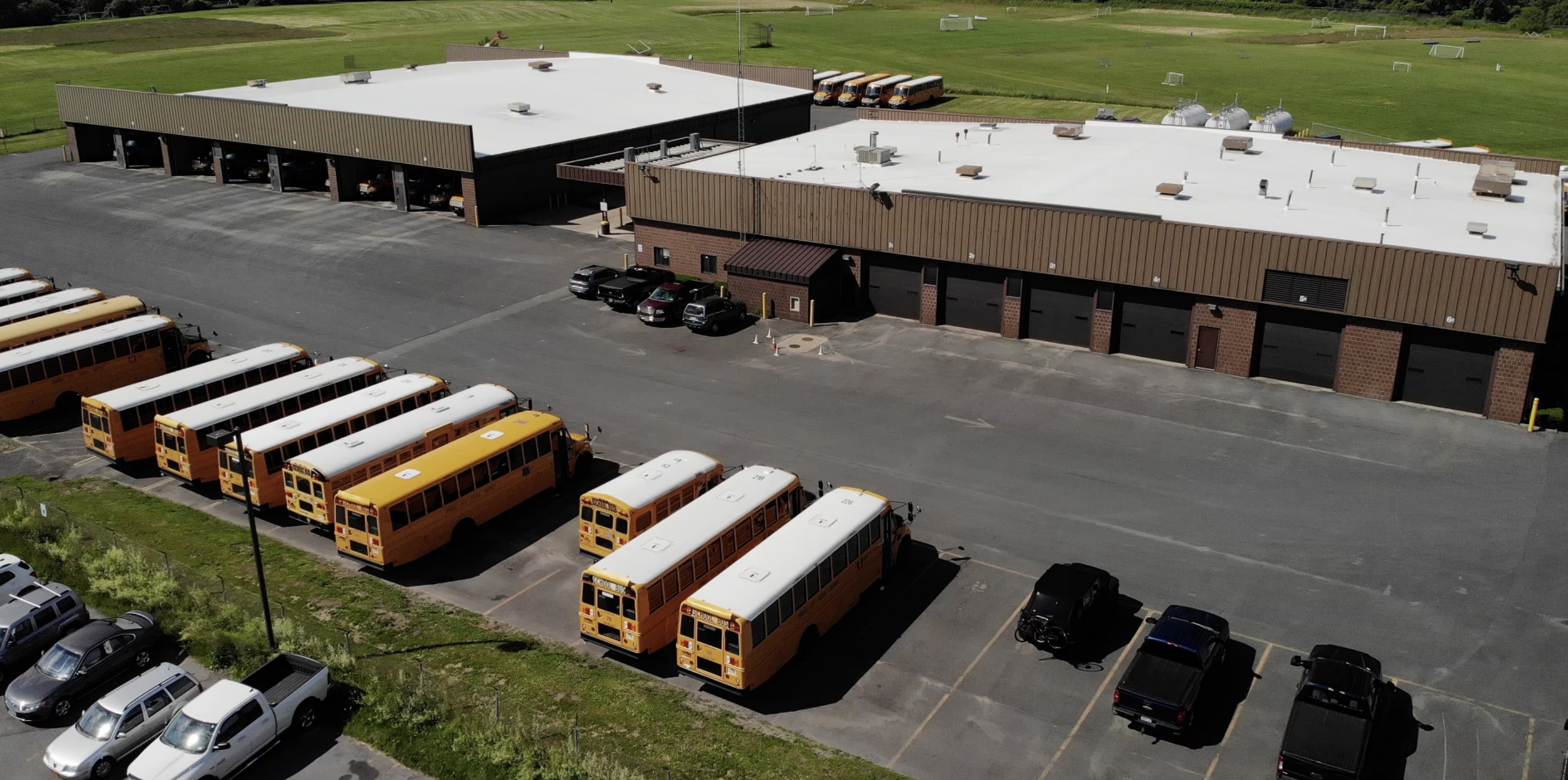 Highlighting the importance of balancing safety and a meaningful education for all, the Oswego City School District administrative team unveiled its reopening plans for the 2020-21 school year at the Tuesday, Aug. 5 Board of Education meeting.
Incoming Superintendent Dr. Mathis Calvin III led the presentation, and laid out the district's comprehensive plan for a successful year that ensures all students receive an education meeting state and federal guidelines while also having measures in place for a safe and healthy learning environment.
Dr. Calvin said he was very impressed with the hard work and energy of the task force and community stakeholders as everyone came together to ensure student needs were met and addressed.
"Watching the interactions of everyone coming together and listening to them has really taught us a lot," said Dr. Calvin. "One of the things I can tell you up front is that people really care about this community and want to see the very best for our children. They're very invested in the work we're doing."
The plan, which is contingent upon Gov. Andrew Cuomo's final decision regarding the opening of schools statewide, was based upon five guiding principles. They are: Ensuring a safe learning and work environments; maximizing family choice; meeting state and federal standards; providing proper training, time and support for staff to prepare for reopening; and an emphasis on providing proactive, clear communications to all.
The district incorporated into a plan what they felt was several important pieces from lessons learned throughout the final months of last school year with online learning.
These plans include a consistent implementation of a school-wide instructional schedule, technology and connectivity being provided to ensure all students can participate equitably, more opportunities for stakeholders to communicate needs and allowing staff to better coordinate instructional practices.
Below is a general listing of important sections and items from the 2020-21 reopening plan.
Educational Program 2020-21
There are two options for instruction at the pre-K to sixth grade level that allows a selection of a hybrid model and a full-time remote schedule. The hybrid model allows in-person instruction two days per week along with three days of remote learning.
"We looked at a number of different plans and options, and recognized the importance of having some family choice in these plans was important," said Dr. Calvin.
Half of the students (Group A) will attend school in person from 8:45 a.m. until 1:30 p.m. on Monday and Tuesday, while the other half (Group B) attends school in person on Thursday and Friday at those times. Wednesdays and weekends will be utilized as a deep-cleaning for all building locations.
Those in K-6 opting for the online model will have four days per week of instruction during the hours of 8:45 a.m. to 1:30 p.m. On Wednesdays, they will receive additional instruction as assigned by their classroom teacher.
Pre-K students at Charles E. Riley, Fitzhugh Park, Kingsford Park and Minetto will receive in-person instruction for a half day, two days per week on either Monday and Tuesday or Wednesday and Thursday. At Leighton Elementary, UPK students will be attending all four days for half-day sessions.
Students in grades seven through 12 will receive their educational program virtually five days per week. All students will be given an instructional schedule to follow each day between the hours of 9 a.m. and 2:30 p.m.
A select group of students with severe disabilities and English language learning needs will receive their instructional program in person four days per week and one day per week virtually.
Additionally, students attending CiTi for CTE courses will be able to attend their program for some in-person instruction (once per week) and will attend the rest of the week virtually. Details for Exceptional Education students are forthcoming.
Sample schedules for elementary, middle school and high school can be found online.
In support of the educational plan, the district will provide 1:1 technology for all students, K-12. This will include a computer and a WiFi mobile hotspot for all students who need them.
Social Distancing and Health Screenings
Oswego City School District access is limited in accordance with health and safety guidelines, and visitor access is restricted.
"Six-foot separation will be maintained whenever possible for both staff and students, and efforts are in place to limit mixing groups of students," said Dr. Calvin.
Masks will be required except during designated break times, plastic barriers are being procured, signage is being put in place and containment areas are being identified. Students will not rotate to other classes throughout the day, instead staff will rotate.
There will be temperature checks each day and parents will complete a daily health check survey online. In addition, contact tracing will be assured by keeping accurate attendance records, student schedules up to date and logging visitors while maintaining confidentiality required by federal and state regulations.
Daily sanitation and disinfection will take place in addition to a deep clean midweek. Teachers will be given a supply of hand-sanitizer, wipes and disinfectant to utilize.
Transportation and YMCA Childcare
Buses will enact new capacity limits and seating guidelines of one student passenger per seat and up to 23 student passengers.
Oswego City School District will provide safe transportation for all students who are attending in-person instruction.
"Our transportation department will be in contact with parents or guardians to clarify these arrangements and guidelines ahead of school," said Dr. Calvin.
The Oswego YMCA is partnering with OCSD to provide before- and after-school care. In the past, it was only provided in three of our school buildings, but it will not be offered in all five elementary buildings. Note there is a cost for YMCA programming, paid directly to them.
All social distancing and health department recommendations will be maintained during YMCA programming.
Parents seeking this type of support should contact the YMCA directly.
Communications Plan
Oswego City School District will continue to engage in communications throughout the pandemic using a number of platforms to reach all of our audiences with current and useful information.
The goal of these communications is to provide information associated with the pandemic and associated school impact in a timely manner. These messages will seek to educate, inform and train students on new COVID-19 safety protocols using CDC and Dept. of Health guidance.
"The goal is continuing to be transparent, open and honest with all of our communications," said Dr. Calvin. "The messages should be easy to understand, accurate and timely."
Its communication channels include the district website, which includes a COVID-19 specific page, the email/text/phone calls via School Messenger, our Facebook page, building signs, newsletters, WBUC television station, The Palladium-Times and town hall virtual meetings.
"We hope to have our first town hall meeting in the next week or two to make sure everyone has a change to address questions or any concerns ahead of reopening," said Dr. Calvin.
The district has a COVID-19 hotline which can be accessed by calling 315-341-2050.
Extracurricular Activities
The district plans to offer some online extra-curricular clubs for secondary students. The clubs are still to be determined, and administrators will be reaching out to inform them of these offerings.
The athletics season has been placed on hold by the New York State Public High School Athletics Association, meaning all sport contests and practices are canceled at this time. If this changes, the district will contact parents to inform them.
The Marching Band season has been canceled.
Food and Nutrition Services/YMCA Childcare
The district will continue to offer breakfast and lunch, however meals will be provided in classrooms instead of cafeterias.
Meals will be provided five days per week for those who are not in attendance at our schools. This program will be run out of the high school, with parents and guardians able to come retrieve food.
Dr. Calvin also noted during a frequently asked questions phase of the presentation that cafeteria space will not be utilized for instruction at this time, but they may be used for before and after care or for storage space.
Further Information and Reading
The district has created a user-friendly URL for all current and future Covid-19-related information and releases on its website at Oswego.org/covid. The Reopening Plan, in its entirety, along with the PowerPoint from Tuesday's meeting can also be found at this link