Capital Project Update: Summer 2020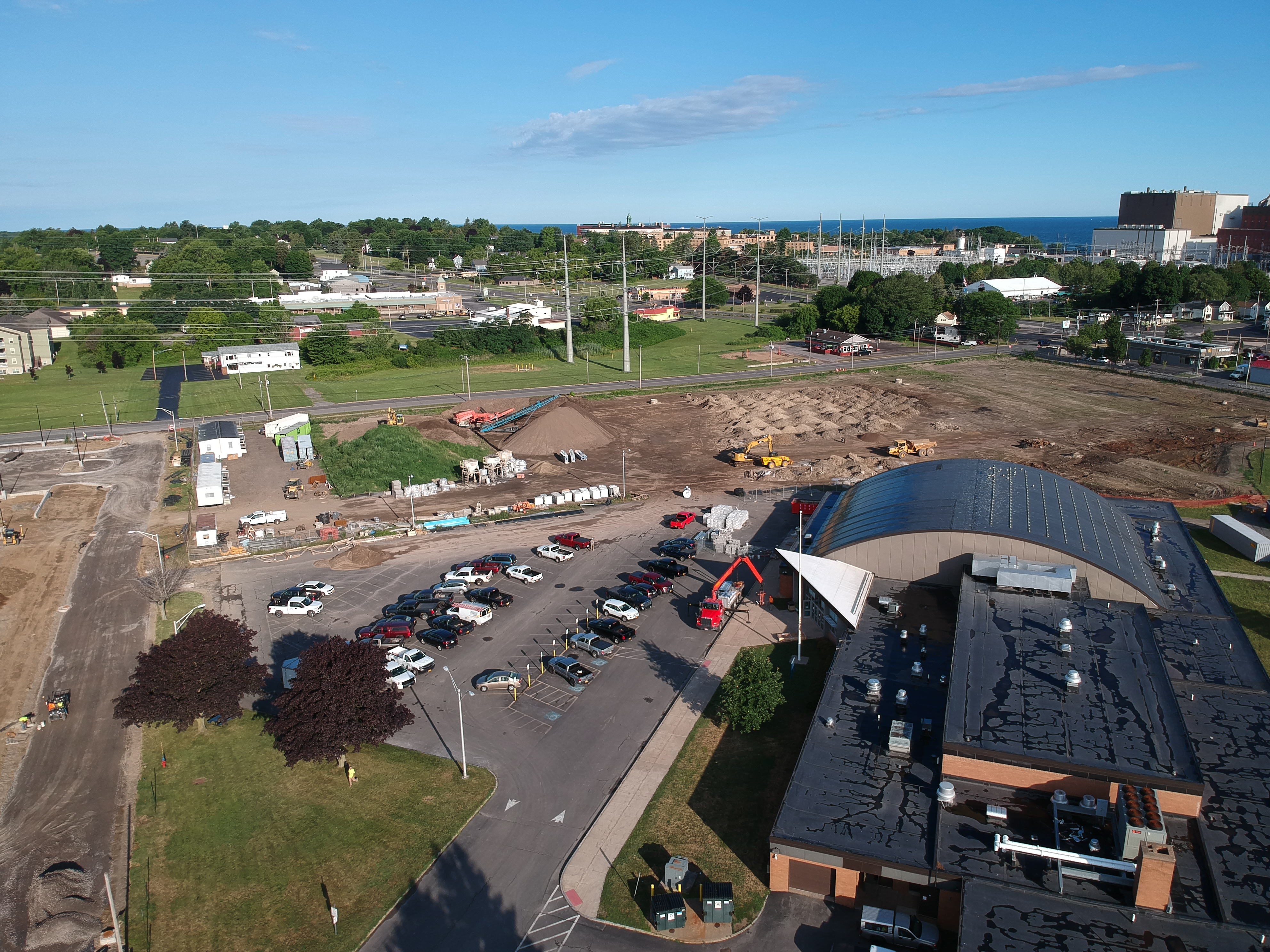 The ongoing Oswego City School District capital project improvements and construction has seen significant progress in 2020, and the project manager says the initial timeline for completion remains unchanged as work continued amid the COVID-19 pandemic.
Drone photos released by the district showcase the large volume of upgrades and construction currently ongoing at OCSD as part of the capital improvement plan approved by voters in late 2018 to address structural and fundamental updates inside schools and around district grounds.
Roofing work at Fitzhugh and Kingsford elementary schools will be completed in the next week or two, and bleachers are arriving the week of Aug. 17 to continue the steady progress of the new athletics complex, project manager and Construction Associates Vice President Peter Marsenison said. He added that the concession building and team locker rooms would likely be completed in mid-October.
There is also significant work being done at Frederick Leighton Elementary School, as a total renovation is underway for its main lobby, including new rest rooms and a concession stand for winter athletics. Additionally, there is an entire wing in the school being renovated, including four new classrooms, new locker rooms and offices for physical education teachers and visiting officials.
"All other areas of construction will continue up until school starts and many areas will be going on well into the month of October," said Marsenison, noting there would be ongoing work while school is in session.
This highly visible construction work, Phase 2 of the capital project improvements, features improvements to the athletics and arts programs along with the main lobby of Oswego High School.
Other ongoing work inside the schools includes final painting, ceramic tile work in select areas, acoustical treatments in the new spaces for the band, chorus and music programs.
Marsenison said even though the COVID-19 pandemic has hit all businesses hard, the timeline is currently on schedule as originally discussed with the district administration prior to the bidding of the project. Some items did experience delays due to manufacturing shutdowns, he said, but a plan is in place to keep things on track.
"We have made alternative plans for those areas so that school may proceed and we will accommodate getting those materials installed after hours, over weekends or during holidays such as Columbus Day," said Marsenison.
With more phases of the project to go, each building in the district will get attention in the coming months and years as fixtures and buildings are further modernized.