OHS senior learning virtually in China through U.S. State Department
One Buccaneer senior has spent a large portion of her summer hard at work, livestreaming classes in China while learning Mandarin thanks to an intensive scholarship opportunity.
Mary Kate Cloonan, an Oswego High School student graduating in June 2022, was awarded a National Security Language Initiative for Youth (NSLI-Y) Virtual Summer Intensive scholarship to study Chinese (Mandarin) language for six weeks.
Cloonan, who would normally travel overseas with the program before it was forced to go virtual due to the COVID-19 pandemic, is one of just 500 students who will study Arabic, Chinese, Hindi, Indonesian, Korean, Persian, Russian or Turkish this summer. She was chosen out of 2,500 applicants nationwide.
"Mary Kate is an incredibly hard worker who is a model student in her class and is excelling with this awesome opportunity," said OHS Principal Ryan Lanigan. "During the summer when many are resting and recharging, she is powering through on a modified sleep schedule with inspiring dedication to explore another language and culture. OHS is incredibly proud of her and everything she's doing."
The NSLI-Y Virtual Summer Intensive program provides robust language and cultural learning opportunities by virtually connecting the participants with overseas teachers, international peers, cultural organizations, and communities where the target language is spoken.
Cloonan officially completes her six-week course, which includes intensive learning nightly, wraps up Friday, Aug. 6.
NSLI-Y is a program of the U.S. Department of State's Bureau of Educational and Cultural Affairs (ECA) that promotes critical language learning among American youth.
A multi-agency U.S. Government initiative launched in 2006 to improve Americans' ability to communicate in select critical languages, NSLI-Y aims to advance international dialogue and provide Americans with jobs skills for the global economy.
Many NSLI-Y alumni go on to pursue education and careers vital to U.S. national security and credit the program experience with helping them improve their academic, leadership, and cross-cultural communication skills.
Applications for 2022-23 NSLI-Y programs will be available at nsliforyouth.org in the late summer. The U.S. Department of State provides study abroad opportunities for over 1,000 American high school students and approximately 3,000 international high school students each year. Visit exchanges.state.gov/highschool to learn more.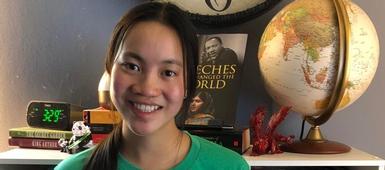 Pictured is OHS senior Mary Kate Cloonan with one of the slides for her Mandarin language classes.