KPS teachers take "pie in the eye" for giving project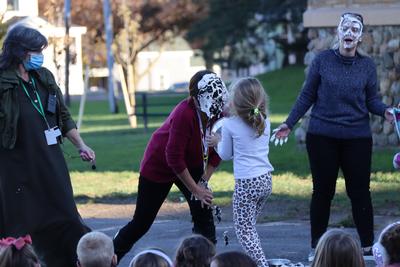 Kingsford Park Elementary students were incentivized to donate full sized toiletries for the annual holiday giving project to be able to pie a teacher in the face.
The holiday giving project benefits KPS families in need. Boxes with teachers' names were located in the main office for students to place their ballot in, which they were given each time they donated a full-sized toiletry item. The three teachers who received the most votes got a "pie in the eye" from a student.
"The KPS Student Council collected socks, shampoo, soap, toothbrushes, toothpaste and deodorant for families in our community for the upcoming holidays. We had so many donations, we couldn't keep up with the count. We over-filled the big blue bin many times. These supplies will help over 40 families in our KPS community have a nice holiday," said Kelly Moxley, fifth-grade teacher at KPS Elementary.
Mr. Simons, Mrs. Peelman and Mrs. Tryon all received a pie in the face. Along with each ballot, the classroom that donated the most items received an extra physical education class.
"I am always impressed with our school community's willingness and effort to help one another. Truly in November, something to be very thankful for, today and everyday," said Principal, Mary Volkomer.