Mamma Mia! opens this weekend at OHS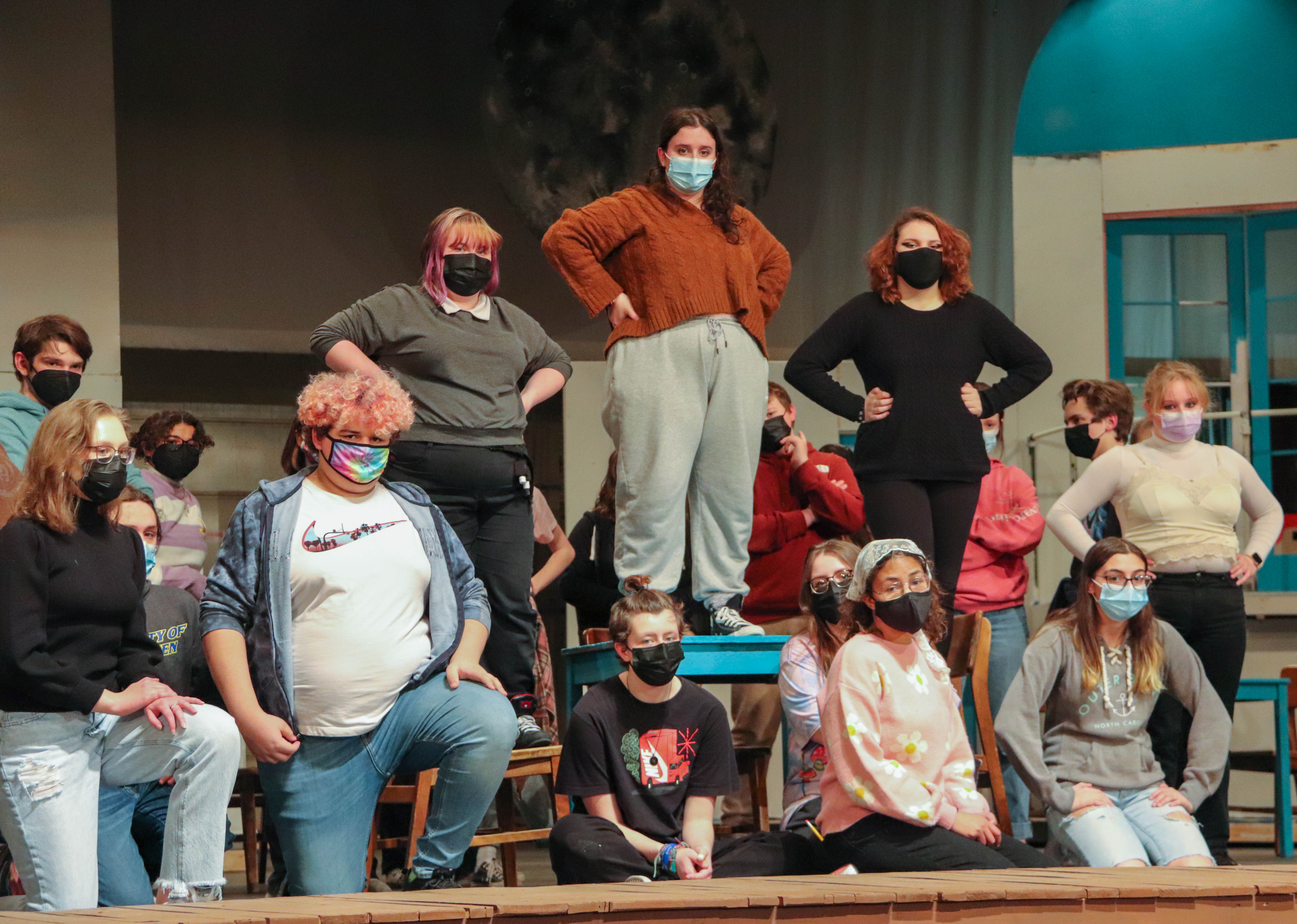 OHS musical cast members (kneeling and standing, left to right): Jillian Bell, Jayden VanWormer, Brennah Jones, Sarah Westcott, Wendy Thompson, Abby Smith; seated are Scott LaPage Swindells, Mariah Pepper and Katie Nettles.
With the Oswego community buried in accumulated snow, it's almost that time of the year again — time for Oswego High School's annual musical. Curtains go up on Friday evening.
This year's Oswego High School production is "Mamma Mia!", the jukebox musical comedy written by Benny Andersson and Bjorn Ulvaeus, the two male members of ABBA, and created entirely from the music of the beloved '70s singing group.
Donna, an independent hotel manager in the Greek islands, is preparing for her daughter Sophie's wedding with the help of two old friends, Rosie and Tanya. Meanwhile, Sophie has concocted a plan of her own. She secretly invites three men from her mother's past in hopes of meeting her biological father and having him escort her down the aisle on her big day. The three men are Irish-American architect Sam Carmichael, Swedish adventurer and writer Bill Anderson, and British banker Harry Bright. She hopes that her father will walk her down the aisle on her big day and believes that after she spends time with them, she will know which is her father.
Music director Robert Dumas and stage director Eve Phillips felt that now, more than ever, the community needed a real escape from both winter and COVID-19. What better way to do so than to support local high school students inside a warm, cozy auditorium?
Musical numbers feature multiple ABBA hits, including "Dancing Queen," "Slipping Through My Fingers" and "Money, Money Money."
The cast includes: Sydny Frantz (Sophie Sheridan), Abby Smith (Ali), Cheyenna Gordon (Lisa), Sarah Westcott (Donna Sheridan), Wendy Thompson (Tanya), Brennah Jones (Rosie), Seth Pagliaroli (Sky), Nate Carr (Pepper), Ben Norton (Eddie), Liam Hinman (Harry Bright), Tristan Clark (Bill Anderson), and Alix Pauldine (Sam Carmichael). Rounding out the ensemble as islanders and wedding guests are: Miles Bandla, Jillian Bell, Sophia, Aileigh Ray, Kaitlyn Freeth, Kendra Garvey, Chloe Helmer, Jaret Hoffman, Helena Holmes, Zach Kinney, Aurora Lawton, Jacquelyn Livingston, Brianna McLaughlin, Isaac McLaughlin, Sean Metcalf, Jasmine McCracken, Ashley Miceli, Logan Myhill, Katie Nettles, Mariah Pepper, Riley Pettit, Scott LaPage-Swindells and Jayden VanWormer.
The musical will be performed in the Robinson-Faust Theatre of the Performing Arts inside Oswego High School (2 Buccaneer Blvd.) on Friday, Feb. 11 and Saturday, Feb. 12 at 7:30 p.m. All tickets are reserved seating and are available by going to
ohsboxoffice.ticketleap.com
. Ticket costs range from $10 to $15. For any questions, please call (315) 341-2270.