District News
Next >> Viewing 1 - 20 of 360 stories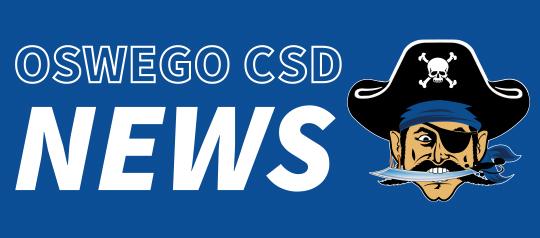 June 2 Superintendent Search Update:

OCSD Community: As you know, we intended to present our three finalist candidates to the committee on Saturday, 6/3. Unfortunately, one of our candidates withdrew their name from consideration, which makes moving forward challenging. We are pausing the Superintendent search so that we can discuss the best way to move forward with our search consultant. As originally planned, Amanda Caldwell will resume the position of Acting Superintendent when Jeff Gordon's interim term ends on June 30. Our goal has always been, and will continue to be, securing the best possible candidate to lead our district to reach its full potential. Thank you so much for volunteering your time to be on this committee. We will be in touch with an update soon. Lisa Glidden, Board President ...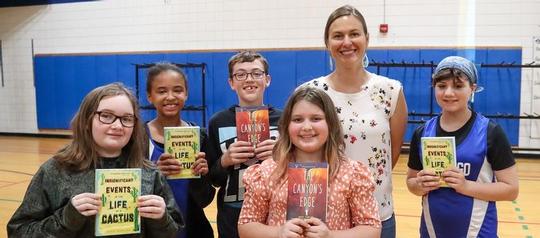 Award-winning author delivers presentation to OMS students:

Oswego Middle School students recently learned about the writing and publishing process during a visit from award-winning author Dusti Bowling. Bowling, whose books include titles such as "Dust," "24 Hours in Nowhere," "Across the Desert," and "Cactus," talked to seventh- and eighth-graders about her journey becoming an author. She stressed the importance of reading, writing about what you know, and never giving up. "Writing a story is really hard," she said. "But if you're writing about the things you care about and the things you love, it makes it easier and you will keep going. It takes several years to spark a first draft, so don't give up." Bowling also talked to the students about the challenges ...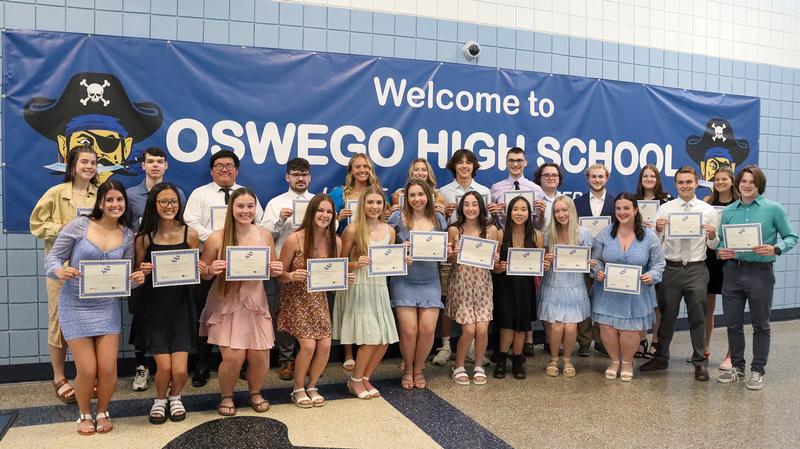 OHS Top 100 Students Celebrated:

A commitment to academics paid dividends for the top 100 Oswego High School students who were celebrated for their accomplishments during a recent recognition night. The event, sponsored by the Rotary Club of Oswego, recognized the top-earning 25 students in each grade level. Students were lauded for their achievements in front of an audience of family members, teachers, administrators, and community members as several speakers offered congratulatory remarks. "As students in the top 100 of the school, you have committed to challenging yourself and you have held yourself to high academic standards," said OHS Principal Ryan Lanigan. "You have done more than we have asked, and your efforts and hard work with the support of your families have led you to be honored here ...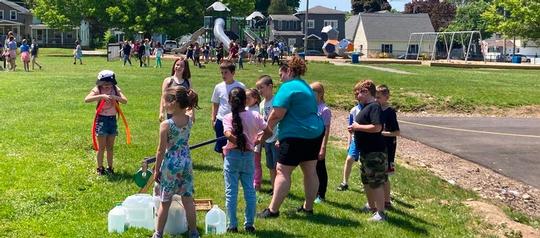 CMOO STEM trailer visits FPS second graders:

Fitzhugh Park Elementary second graders were recently engaged in hands-on STEM (science, technology, engineering and mathematics) activities when the Children's Museum of Oswego's (CMOO) STEM trailer came to FPS. Students had the opportunity to maneuver a catapult, use magnets to create a maze for balls, build a small vehicle, stack blocks to produce towers and fashion instruments out of recycled materials. The CMOO STEM trailer provided unique opportunities for students to practice critical thinking, problem solving and collaboration. Students were encouraged to ask questions to help them discover their own solutions, to stimulate their curiosity and to help them to think in new ways." "Learning STEM skills is of utmost importance in today's ever-changing ...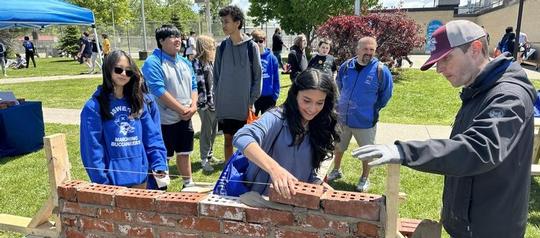 OHS freshmen class attends Career Jam:

The Oswego High School freshmen class recently got to attend the seventh annual Career Jam, presented by The WorkPlace, at the Watertown Municipal Arena, Agricultural Hall and surrounding grounds. The hands-on career exploration event is designed to highlight local careers. The focus of the event is to introduce students to the 16 National Career Clusters. Examples of the Career Clusters include Hospitality and Tourism, Health Sciences, Manufacturing and Information Technology. The aim is to allow students to get a feel for what they want to do in high school, and potentially as a career once they finish their education. Once students arrived, they received "Career Hunt Cards," which allowed them to record the businesses they visited within the different booths of the ...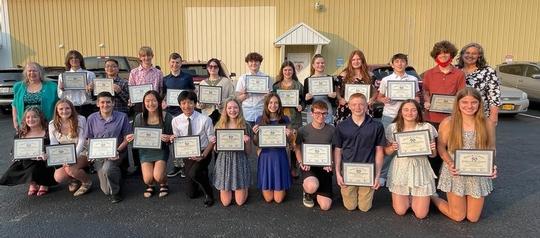 OMS students earn recognition for academic excellence:

Fifty Oswego Middle School students were recognized recently for academic excellence during a ceremony and dinner at the Masonic Lodge. Sponsored by Pathfinder Bank and the Oswego Sunrise Rotary Club, the event served as an opportunity to celebrate the 25 seventh-graders and the 25 eighth-graders who earned the highest GPA among the OMS student population. Family members and district personnel were on hand to congratulate the honorees. OMS Principal Mary Beth Fierro noted that the top 25 students in each grade level have excelled academically and in extracurricular activities as well. She lauded them as leaders among their peers. "Each student here tonight is an outstanding representative of the Oswego Middle School, the Oswego City School District and the larger Oswego community," ...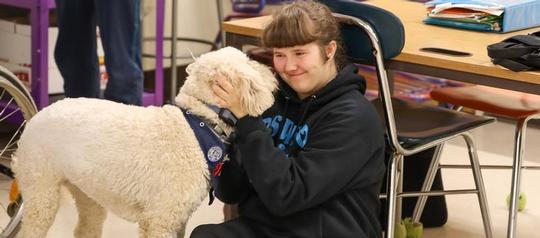 OMS Welcomes Therapy Dog:

The Oswego Middle School recently welcomed a new four-legged friend as therapy dog Nala is quickly becoming a beloved member of the school community. Nala, a tail-wagging 2-year-old pup, became a certified therapy dog in November and has been coming to school with owner and teacher Sue Roik two days per week since mid-fall. The dog provides a calming presence, with plenty of comfort and affection to students and staff alike. "The students really enjoy having her here, and Nala enjoys it just as much," Roik said. "Students come up to her between classes in the hallway. They love to pet her, and Nala loves it too. It's great to see that kind of interaction."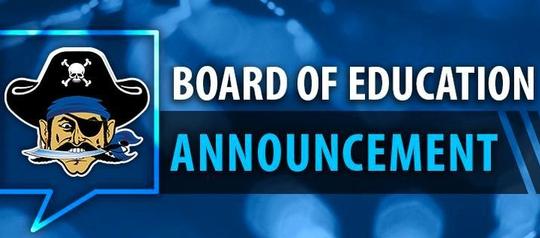 May 10th, Superintendent Search Update:

May 10, 2023 Dear Members of the Oswego City School District Community: The Board of Education would like to thank the many volunteers who applied for our superintendent search committee. Due to a high volume of applicants, the Board of Education used a random selection tool to form our committee that will meet with superintendent candidate finalists. Our superintendent search and process is ongoing, with finalist interview dates to be determined as soon as we are able. The list of randomly selected committee members representing our community are below: Superintendent Search Committee Members: Education Cabinet members Lisa Carter Nancy Squairs Community members Ed Alberts Julie Sterio Penny Pratt Lou Anne Rucynski Coleman ...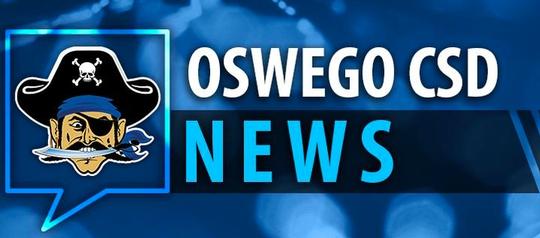 OHS Dual Enrollment Information Night Set For May 9:

The Oswego City School District is hosting a dual enrollment/AP informational night at 5 p.m. May 9 inside the Oswego High School library. Oswego High School's goal is to develop high-school-level programming that helps all students prepare for life after graduation. Through the dual enrollment courses, students can enroll in courses that help them get a jumpstart on earning college credits. "Dual enrollment offers our students with the unique opportunity to simultaneously earn high school and college credit," said OHS Principal Ryan Lanigan. "An added benefit is that dual enrollment reduces the financial burden on families by allowing students to earn college credit at no cost." From this school year compared to the school year prior, OHS has seen ...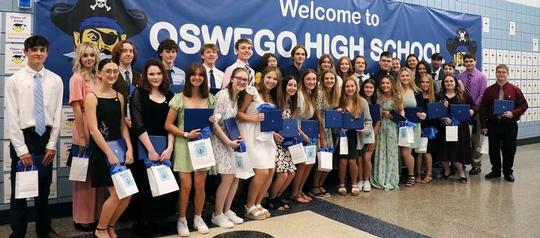 OHS students inducted into NHS:

Thirty-three students were inducted into the Owl's Head Chapter of the National Honor Society at Oswego High School on April 30. Co-presidents Sean Metcalf and Quinten Denkenberger welcomed inductees as they explained the honor is not merely based on grades, but on four pillars that are illustrated: leadership, character, scholarship and service. The inductees were as follows: Lauren Adkins, Lilly Allison, Clayton Andrews, Miles Bandla, Shane Bond, Logan Brayton, Sophia Cahill, Nathan Carr, Joscelyn Coniski, Amanda Connelly, Janessa Coronado, Alaina DiBlasi, Audrey Donovan, Keegan Finch, Elizabeth Furlong, Emilie Furlong, Alexis Galvin, Brooke Hagenmayer, Thomas Kirwan, Sophia Kropf, August McDonald, Basil Miller, Logan Myhill, Ella O'Connor, Margaret ...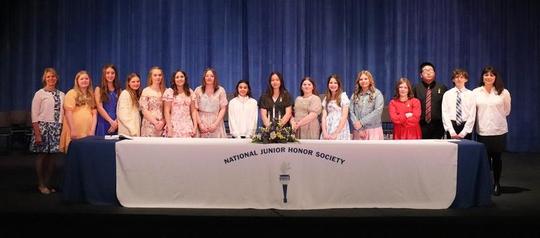 14 Students Inducted into National Junior Honor Society:

Fourteen students were inducted into the National Junior Honor Society at Oswego High School April 30. The ceremony was complete with the traditional lighting of the candles as the students recited the Junior Honor Society pledge. National Honor Society Co-president Sean Metcalf said, "This organization is all about the five main pillars of scholarship, leadership, service, character and citizenship. You guys have worked incredibly hard to reach this moment, and you should be very proud of yourselves." The following were the inductees: Kaelyn Bond, Alyssa Britt, Anna Canale, Lindsay Colasurdo, Olyvia Dorsey, Kara Hsu, Brielle Libbey, Len Lin, Wilson Metcalf, Maria Murray, Abigail Peters, Elizabeth Stahl, Mia Sykut and Lucy Woodruff. ...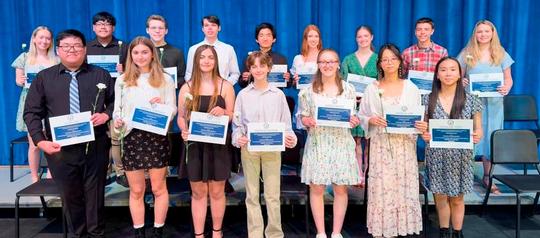 Oswego High School students make history:

Oswego High School recently inducted students into its Math Honor Society. These students, who have displayed exemplary mathematical skills, as well as other qualities that made them eligible for induction, became the first group of students in Oswego High School history to be inducted into the Math Honor Society. The inducted members are Carolyn Canale, Marbielynn Concepcion, Audrey Donovan, Teagan Griffin, Natalie Hooper, Sophia Kropf, Angela Lin, Leon Lin, Leonard Lin, Miah Metott, Treyse Miller, Alexander Niger, Margaret O'Leary, David Pearson, Alexis Peck, Beatrice Rastley, Gracie Rendel, Leanna Rockwood and Andrew Shaver. "We're so proud of these students and the hard work they've done to reach this point in their academic careers," ...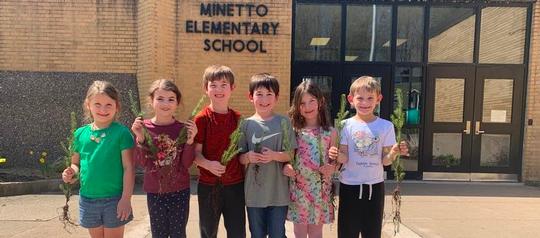 Minetto Elementary students celebrate Earth & Arbor Day:

Every Minetto Elementary student received a seedling to mark the upcoming Earth Day and Arbor Day. Students from the Minetto Way Cafe helped pass out saplings for each student pre-K through sixth in attendance on Friday, April 21. Earth Day is celebrated on April 22, and Arbor Day is April 28. To view a gallery of photos from the celebration, visit the OCSD Facebook page at the following link: https://www.facebook.com/OswegoCSD/posts/pfbid02at9uZPFXSAyBvKWwmyAT4EzcA2Xp7d6fJmXtF33rE1DXkfurmEmL6qENjsA6U1QQl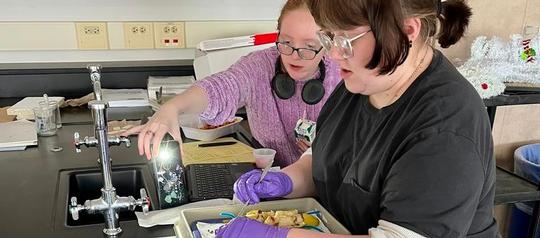 Going bananas: OHS SUPA forensics class performs unusual autopsies:

Oswego High School's Syracuse University Project Advance (SUPA) forensics class recently acted as medical examiners and performed banana autopsies. Each banana had its own storyline on how it ended up in the "nanner morgue." For example, Nana Banana, age 72, was a rich, inclusive and recently widowed banana, who was found by a housekeeper early in the morning. Armed with medical scalpels and gloves, students were tasked with determining the manner, cause and mechanism of death based on the wounds that each banana had incurred. Students got to utilize a cadaver weighing station, as well as being tasked with filling out a "Medical Examiner's Report of Autopsy" to indicate where injuries had occurred and list their findings. "Students ...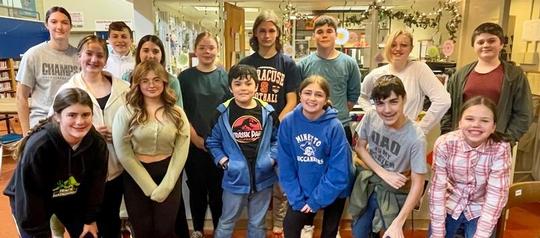 OMS students compete in Battle of the Books:

Students at Oswego Middle School recently participated in this year's Battle of the Books competition, with the "Beyond the Book" team earning first place. The winning team, comprised of Lily Anzalone, Madeleine Shaver, Maria Sweet and Liam Sugar, answered the most questions correctly and will represent Oswego Middle School at the regional level of the competition. The winners battled teams of their peers in the event, which encourages students to read a variety of literature and recall specific details regarding the books and respective authors. "The students pour a ton of energy and effort into this competition," said Oswego Middle School's library media specialist, MaryAlice Brennan-Steere, who helped coordinate the event at the school ...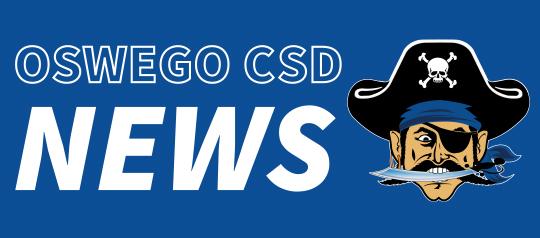 OHS students earn academic honors:

Hundreds of Oswego High School students earned academic recognition for their achievements during the third quarter. The highest honor, high honor, and honor roll recipients are below: 9 th Grade Highest Honors Angela Lin, Leah J Kelly, Marbielynn Julianne Concepcion, Leonard Lin, Andrew Joseph Shaver, Xavier Alexander Vasquez, Aiden Spencer Towne, Leah Norton, Julia Grace Pearson, Hannah Barbera, Maddox Thomas Mazzoli, Grant Romanowski, Aaron Nicholas O'Brien, Olivia Christine Kapuscinski, Lana Mae Hsu, Gabriella Warner, Allanie Alexandra White, Devin Wayne Allen, Michael J Conzone, Zachary Tyler Truell, Ethan Munger, Allison Michael Canale, Joseph Patrick Wall Jr, Alisa Busuladzic, Jillian Wallace, Yael S Hunley, Alina Jean Sykut, Daniel William Buske, Savannah MaKenzie Pecorella, ...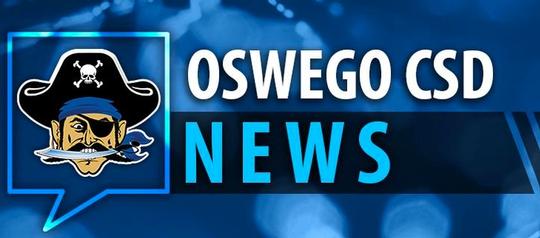 Feedback Wanted Regarding Superintendent Search:

The Oswego City School District Board of Education is seeking community input regarding its next superintendent. A Thought Exchange is now open and allows for members of the public to offer feedback about the next OCSD leader. Thought Exchange groups responses into themes to make it easier for the BOE to consider a wide variety of opinions and perspectives. The survey will be open through Sunday, April 23. Click here to access the Thought Exchange or scan the QR code.
Next >> Viewing 1 - 20 of 360 stories